How to Choose a Financial Advisor
---
How many names do you know in the finance industry? There are probably just a handful! When it comes to choosing a financial advisor, you want to be confident in knowing who they are, what they do, and whether they can help you reach your goals. 
It's important to know the right questions to ask and what to look for before you choose someone to help get you to and through retirement. 
We have information that may be helpful to know before you choose a financial advisor—starting with the difference between some of the most common financial positions.
Types of Financial Professionals
The general term for someone in finance is typically a financial advisor. This is because they can cover a wide variety of services from income planning, legacy planning, investment management, retirement planning, and tax planning (different from doing your taxes). In addition, many financial advisors also are a licensed insurance agent and can offer healthcare selections and insurance products.
Some other titles you might be using interchangeably with a financial advisor are likely financial planner or wealth manager. But these can be a little different. Here's how to tell them apart:


Financial Planner: This person is focused more on the "planning" portion. A financial planner focuses on creating a strategy to help you meet your long-term goals. They don't always handle direct investments. Another important distinction is that every financial planner is a financial advisor, but not every financial advisor is a financial planner. (

source

) A good financial planner can help you plan for the future and achieve your goals.





Wealth Manager: This is a person who primarily works with someone who already has some wealth and is looking to build more. Wealth management is actually a subset of financial advisors, which is where the confusion can come in. A good wealth manager can help your already existing wealth continue to grow or help show you strategies on ways to invest an inheritance you received.




Financial Advisor: Someone who provides guidance, advice, and, depending on the services used by the client, may even make decisions on behalf of their clients. A good financial advisor will likely also be a financial planner so you will get the benefits of everything they can do to help make your retirement goals a reality.


"A true financial advisor should be a well-educated, credentialed, experienced financial professional who works on behalf of their clients, as opposed to serving the interests of a financial institution by maximizing the sales of certain products or capitalizing on commissions from sales." – Julia Kagan, Investopedia (source)
It is also worth mentioning that a financial advisor is typically different from the person that helps you file taxes each year. A financial advisor may help you plan for future taxes as part of their planning, but their role usually does not include keeping up with tax law or holding the certifications necessary to file your taxes.
READ MORE: Retirement Resource Roundup: 9 Podcasts & Articles to Help You Prepare Effectively
Finding the Best Financial Advisor for You
Finding the right financial advisor is important because how they advise you to handle your money has the potential to help set you up for the retirement you've always hoped for. As you compare different advisors, there are several key factors and questions that are important to ask to determine if they are a good fit for you.


What is their primary focus on?

We often recommend that an advisor who focuses on accumulations may be a better fit if you are in your 20s or 30s. They will typically put your money into something like a mutual fund where even if you "lose" some you could still come out ahead. However, someone who focuses on distributions can help you manage your retirement and when you should take money out of your investments. (

source

)


Do you like and trust them?

This is why it is so important to meet with potential advisors before moving forward with them. Don't be afraid to shop around! The right advisor will not only be book-smart, qualified, and hold all the necessary licenses, but they will also be someone you like and respect. Be sure to take some time to get to know them personally. Ask about their hobbies, beliefs, and values and how that impacts their philosophy on finances.
Choosing a financial advisor is no easy task, but armed with the knowledge from this article, you should be more equipped to find one that is qualified and can help you plan for the retirement you have dreamed of.
Here at 210 Financial, our process as financial advisors is to discover exactly where you stand, how well you're protected, and where to go next. We'll examine your current strategy, looking at your portfolio, savings and goals. Using our Retirement Blueprint process as a model, we'll see how well you're equipped to address 5 important areas of retirement. Together, we'll decide how to move forward. Get started here >>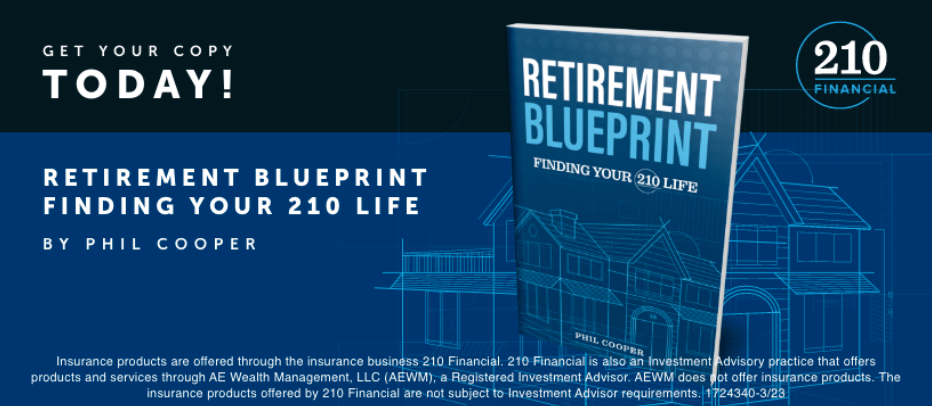 ---
210 Financial is more than just numbers. The "210" in our name stands for a childhood home that represented safety, love, and family. That is what we want to provide for everyone that we care for. Welcome home. Welcome to 210.
Insurance products are offered through the insurance business 210 Financial. 210 Financial is also an Investment Advisory practice that offers products and services through AE Wealth Management, LLC (AEWM), a Registered Investment Advisor. AEWM does not offer insurance products. The insurance products offered by 210 Financial are not subject to Investment Advisor requirements. Investing involves risk including the potential loss of principal. Any references to protection benefits, safety, security, lifetime income, etc. generally refer to fixed insurance products, never securities or investment products. Insurance and annuity product guarantees are backed by the financial strength and claims-paying ability of the issuing insurance company. The information is not intended to be used as the sole basis for financial decisions, nor should it be construed as advice designed to meet the particular needs of an individual's situation. 1829315 – 6/23
Content prepared by Savage Content Collective
Ready to Take The Next Step?
For more information about our comprehensive financial planning process, schedule a meeting or register to attend an event.